Our Services
Conservation and Restoration
Faithful renovation of old and listed buildings, with exact reproduction of windows, doors, mouldings, etc.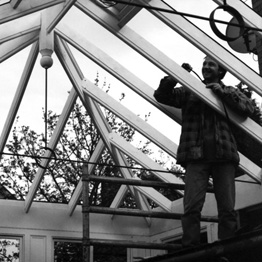 Wooden Conservatories
Extend your house and add value with a solid oak or painted hardwood conservatory, designed and built to your individual specifications.
Porches
Enhance any building with an air-dried oak porch or entrance hall.
Doors
Wooden doors of all types, including solid wood, period styles, French and traditional ledged doors. We also make bi-fold doors which slide back to extend your living space into the garden.
Windows
We build sliding sash windows and Yorkshire lights as well as slim-line conservation sealed glazing units for listed buildings.
Staircases
Curved flights, hand-carved continuous rails, cut string, open tread or bakehouse stairs - we can advise you on the most suitable style to fit your home.
Bespoke Furniture
Designed to your requirements, unique tables, chairs, bookcases, sideboards and chests as well as fitted furniture such as wardrobes and closets.
Barn Conversions
Transform a traditional barn into a stunning modern home, complete with king post trusses.
Mouldings and Skirtings
Reproduced to match an existing style or a new design.
Shop Fronts
Traditional shop fronts renovated or built to match the local style.
Lacquering
A protective coat that enhances the appearance, we can apply AC lacquer to any wooden furniture, and many of our projects are finished in this way.
Free Quotations
Our prices are competitive, and we'll be happy to arrange a site visit and provide you with a detailed, written quote at no charge.
We can also give advice and help with the details of planning permission, schedules and working drawings.
Contact us for a friendly chat.
Site / Project Management
For a large construction project such as a barn conversion, there is a huge amount of organisation and admin to sort out, supplies to order and tradesmen to book. Before you start tearing your hair out, let us take all the work off your hands!
Kitchens
Beautiful, hand-made kitchens, with granite or timber worktops, designed bespoke to fit your needs perfectly.